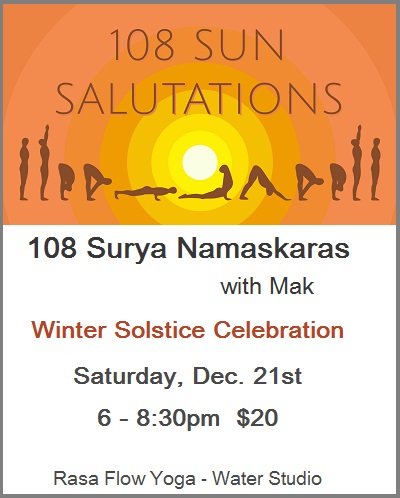 108 Surya Namaskaras with Mak
The Winter Solstice symbolizes death and rebirth – new beginnings and fresh starts.
It is believed that the fire (internal heat) that you build during this practice is cleansing, detoxifying, and gets you more in touch with yourself.
There are many benefits to practicing 108 Sun Salutations:
- power to shift your perspective
- discover your inner drive
- feel more energized, more alert, and empowered overall
- 108 Sun Salutations will provide a sense of grounding
During 108 Sun Salutations, you will at some point think, "Why did I sign up for this?" If you keep going, you will find a state of ease, and even a sense of flow. You will surrender to the process, acknowledge what arises emotionally, and then let it go. When you finish, you will feel lighter and find meaning in this ancient ritual.
Welcoming 2020 Through Sacred Rituals with Yogi Amandeep
Register at eventbrite:  http://www.rasa2020.eventbrite.ca/
The frequencies of the heavenly bodies, their movements and formation of constellations effects earth and life on earth. 
The Himalayan masters state that the whole universe is in a organic unity – Ik Ongkaar, therefore every frequency anywhere has an effect on the whole. 
This unity states that when an individual on earth makes a conscious effort to gather at a specific time, then meditate and engage in sacred rituals and then puts an intention for world peace and harmony that affects the entire cosmos. 
If this intention is expressed in a collective consciousness; which is called Sangat, in a specific way, through esoteric rituals it has the power to change any situation and circumstances.
If you are looking for transformation and changing your life, this is an invitation, to New Year celebrations in a yogic way.
An event organized through the grace of the cosmos, so that we can learn to direct our life through our breath and change circumstances through our projections and intentions.
You're invited to this unique 90 minute sound bath to slow down, rest, and receive healing vibrations while immersing into a soundscape of Gongs, Crystal Singing Bowls, Tibetan Singing Bowls, Steel Tongue Drums, and more.
Some benefits that you can experience during Sound & Vibrational Healing (Sound Bath):
– Deep relaxation – not only during, but days afterward you'll be better able to manage stress and anxiety
– Increase in immune system function
– Nervous system regulation
– Decrease in depressive feelings
– Improvement in emotional regulation
– Reduced blood pressure
– Enhanced sleep and memory
– Tunes you up to positive mood states
– And more
Yoga Mats and blankets are available at the studio.  Bring water bottle, a cushion/pillow & eye covering if you  require them as you will be laying down for up to 90 minutes. 
Parking: There is street parking (usually plenty), and a paid parking lot on 1st Street East near Rasa Flow Yoga.
Note: We cannot let you in if you are late.  Please arrive early, before 7 pm (no refunds for being late).  If you need to contact Mike Reed please text (do not call): 778-680-5992
TURN CELL PHONES COMPLETELY OFF UPON ARRIVAL
Mike Reed is a musician, sound healer, artist, and world adventurer. Having travelled the world extensively while exploring the spirit of the land, music, and shamanism, he holds a deep and heartful space in which to heal, harmonize, and explore your inner world. His love of drumming and percussion led Mike to study at the Musician's Institute in Los Angeles, and over the last several years he has studied counselling, personal development, life coaching, and has completed 3 years of Shamanic Apprenticeship with Westcoast Shamanic in Vancouver. Mike's insatiable thirst for learning and self-improvement has allowed him to synthesize his musicianship and spiritual practice to hold a space of healing and relaxation.
Location: Mount Madonna Center445 Summit Road, Watsonville, CA
2020 is blooming and we are meeting with Yogi Amandeep Singh in the Santa Cruz Mountains for a weekend retreat – Aligning the Portals Within.  You are invited.  We will gather on January 10-12, 2020, an especially powerful time to initiate balance and healing. Together we will set our energy for the year ahead in order to meet the challenges of these times. The universe is longing to pour its abundance into you — but only if you are open to receive.
Are you ready? The universe is always giving, but we are not always open to receiving.  Misalignment of our posture, breath, navel, spine, heart, ears, hands, tongue, soles and soul, the main wombs of Shakti, can block our receptivity. Our alignment through these stargates holds the key for all manifestation through Shiva, the unmoving space of pure potential.
Through these gates time and space intertwine to create the reality we are experiencing now. When these gates are closed with knots of emotions and commotion, life goes into a repetitive pattern, the wheel of Karma.
We warmly invite you to share the wisdom of the Himalayan caves.
Align these stargates and receive the happiness and flow which is your birthright.
Celebrate and welcome in 2020 - register today