---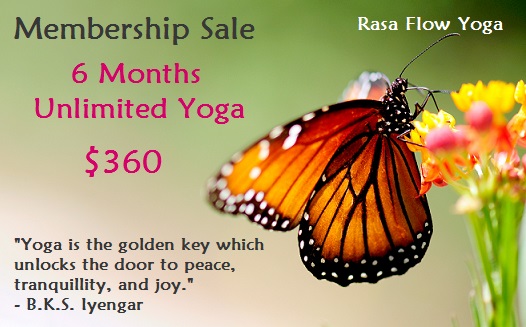 ---
If you live in Port Coquitlam and are interested in yoga classes, contact Rasa Flow Yoga for more information about current and upcoming classes. They offer a wide range of exciting and relaxing yoga classes for all levels of experience.
If you're pregnant and are considering yoga for the health of your unborn baby as well as your own health during pregnancy, you'll love the Prenatal Yoga classes available at Rasa Flow Port Coquitlam Yoga. You'll enjoy a much more comfortable pregnancy throughout all of the trimesters, through strengthening, stretching and breathing exercises that will nurture and support you during this time. 
Mothers-to-be can improve their balance, posture and flexibility through postures and practices that are safe during pregnancy, allowing you to connect to your baby, tone your birthing muscles, explore different birthing positions, and learn to use your breath to prepare for labor. Relaxation techniques will be greatly appreciated both during labor and once you transition into motherhood.
For Port Coquitlam residents who are new to yoga, Rasa Flow encourages you to start with beginner level classes, including Hatha, Yoga & Meditation, Yoga Stretch, Yin, and Restorative. 
- Through Hatha, you'll explore all of the foundations of yoga, will experience proper body alignment, muscle tine, flexibility, and pranayama, or, the strengthening of the nervous system. 
- Yoga & Meditation is a class that welcomes all levels and combines movement, breathing exercises and meditation. 
- Yin will teach you how to safely stretch deeply, targeting tendons, ligaments, and fascia while practicing stillness and centering on the breath and body. A great class for beginners to really enjoy!
- Restorative classes use a bolster to assist in your therapy to restore the body, organs and nervous system. You'll practice wellness in this class and learn how to center your breathing.
There are many great health benefits that come with routinely practicing yoga. Take a look at what practicing at your local Port Coquitlam studio can do for you:
- For more than five thousand years, yoga practitioners have known about and proclaimed the wide range of benefits that come with regular practice, including an improvement in flexibility, strength, balance and of course, endurance. Through the shifting of awareness to the sensations that copy with a posture, there is hardly a limit to the restorative and rejuvenative benefits one can enjoy.
- Are you often depressed? Practicing yoga can give you the emotional boost you're looking for! Those who practice yoga on long-term are considered to enjoy a greater level of contentment.
- For back pain, even traditional medicine cannot compare with the effective nature of yoga. Those who suffer with chronic back pain can live a better quality of life through routinely practicing yoga.
The fact is, that yoga is good for whatever ails you. Schedule a class at your local Port Coquitlam studio for a beginner or more advanced yoga class where you'll enjoy all of the benefits it has to offer you, and some that you didn't know about.
For more information, visit rasaflowyoga.com, or contact the studio by calling 604-971-5230.
Rasa Flow Yoga
604 971-5230
2569 Shaughnessy St, Port Coquitlam BC
View Larger Map
We welcome your comments!
---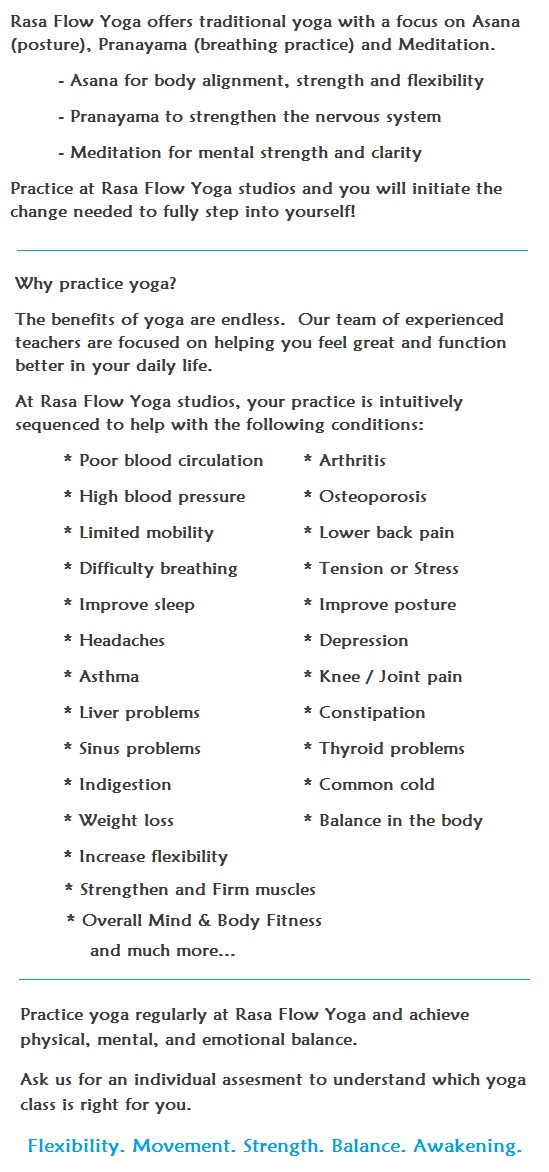 ---