---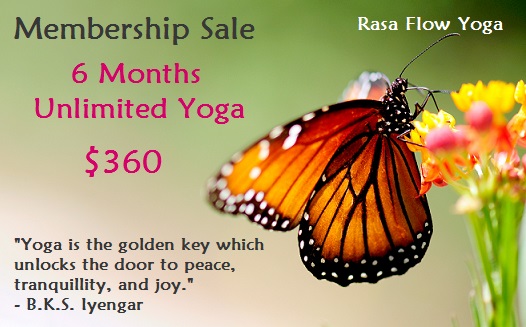 ---
Are you interested in taking a yoga class in Coquitlam? You're going to love Rasa Flow Yoga studio. Your membership is valid in both of the Rasa Flow locations that include the North Vancouver Water Studio and the Port Coquitlam Earth Studio. 
New member offers for the Earth Yoga studio in Coquitlam include:
- 1 Month unlimited for $50
- 10 yoga classes for $50 (6 months expiry)
- 5 yoga classes for $35 ( 3 month expiry)
Rasa Flow's Earth Studio is conveniently located on Shaughnessy St. in Port Coquitlam. Their vision is to help spread the vibrations of health and wellness in the local community, transform lives to a more joyous path, both on and off the yoga mat, keep prices affordable so we can all live holistically, and continue to strengthen body, mind, and spirit.
You're going to love Rasa Flow's revitalizing, peaceful, non-judgmental, and welcoming atmosphere to practice yoga in. You'll practice in a space that invites the wholeness of body, mind, and spirit. Yoga teachers at Rasa Flow will help you relax, unwind, have fun, feel good, glow and inspire others around you to connect to their inner peacefulness as well. 
If you've ever struggled with insomnia issues, yoga is ideal to remove that obstacle from your life. Millions of people across the country take pharmaceuticals to try and conquer sleeplessness, but routine yoga practicing can naturally help you beat insomnia, without the worry of taking drugs. Yoga is not only one of the most effective ways to get a great night's sleep, it is the one that is best for your body.
For mental clarity, nothing even comes close to yoga. Sign up for yoga at Rasa Flow Yoga in Coquitlam and discover for yourself why those who practice yoga enjoy mental clarity, better focus, organized through processes and improved cognitive function. You'll love what yoga can do for the mind! 
Are you currently on any medications for pain? You may be surprised to find out that after a few sessions of yoga, you may be able to decrease the amount of pain relievers you're putting into your body. There are plenty of studies out there that have shown yoga to be one of the most effective treatments available for pain management, and even pain reduction and elimination. Take advantage of the affordable yoga class at Rasa Flow in Coquitlam and find out what it can do for you.
Rasa Flow Yoga offers a great selection of classes designed to meet you where you are along your journey- from beginner's classes on up. If you're just starting out, there are several great classes that will introduce you to the postures and foundations of yoga.
Why not schedule a class and see what it's all about? You can fill out a new membership right on the Internet at rasaflowyoga.com, so you won't have to worry about filling out any paperwork when you come in the studio.
If you have questions, feel free to contact Rasa Flow Yoga by calling 604-971-5230.
Rasa Flow Yoga
604 971-5230
2569 Shaughnessy St, Port Coquitlam BC
View Larger Map
We welcome your comments!
---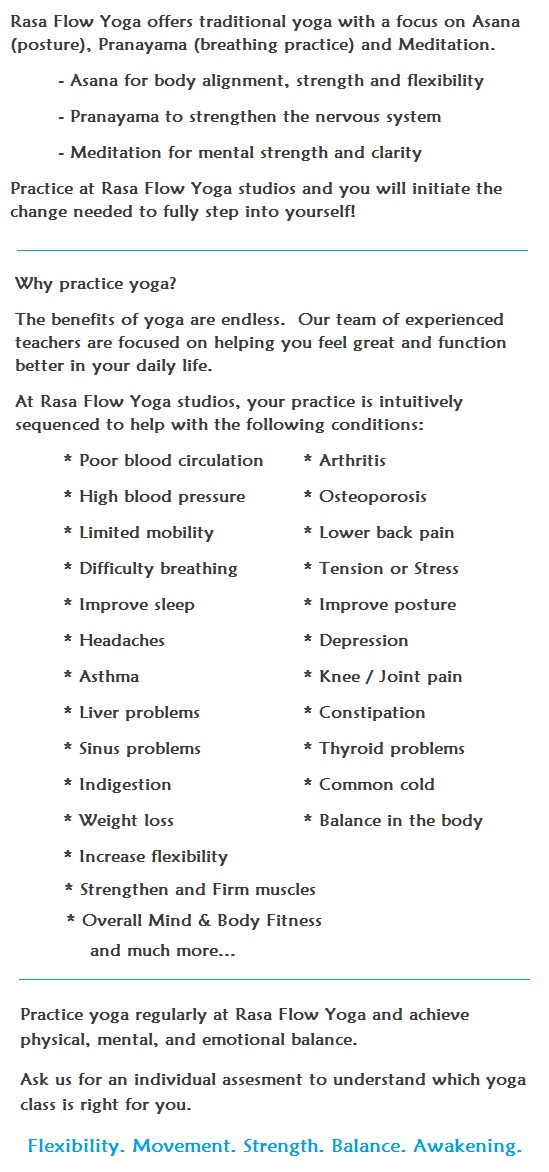 ---