Link To: Online Schedule & New Member Registration for Earth StudioParking: Plenty of parking is available on the street and members are also able to use the large parking lot across Samz Pub and behind the Legion. 1 block away from the studio.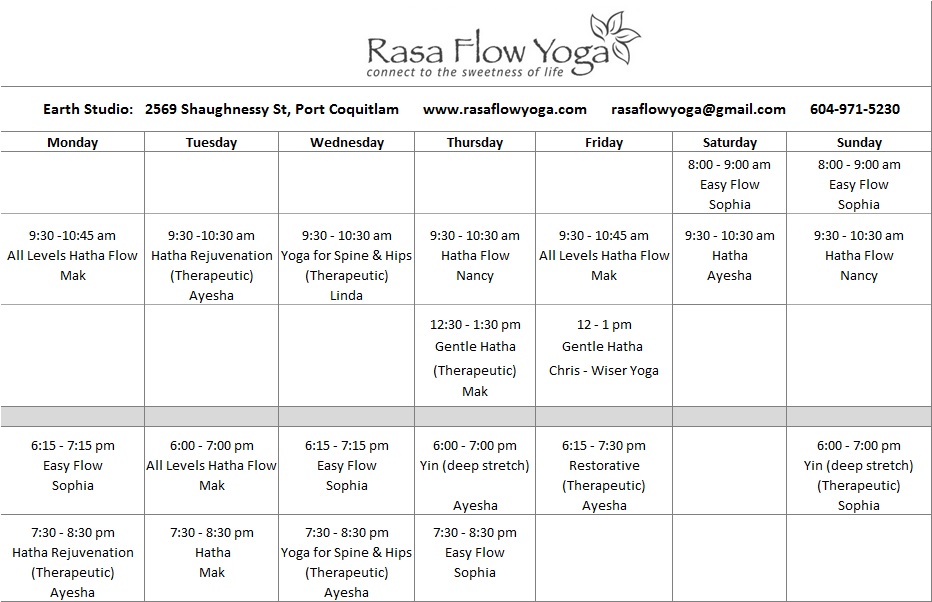 Membership Rates for Earth Studio:
Intro. Offer – 8 Classes 1 month expiry: $40
Drop In Yoga: $15
1 Month Unlimited Yoga: $80
10 Yoga Classes (1 year expiry): $100
$80 monthly unlimited yoga available on auto renew. Please offer 1 month notice for cancellation

No Holds or Extensions on memberships

Regarding auto renew: 30 days notice required to cancel auto renew membership. Contract Free membership 🙂

---
New Studio Rates starting January 1st 2019:
Drop In: $20
1 Month Unlimited: $100
10 Yoga Classes (1 year expiry): $130
Auto Renew Program:
---
200 Hour Yoga Teacher Training with a focus on Hatha Rejuvenation & Relaxation
Rasa Flow Yoga School
Port Coquitlam Earth Studio
Part time: February 2nd – May 20th 2019
Saturday, Sunday, Monday: 12:00 – 4:00pm
Regular Fees: $3000- + tax = $3150.00, payment plan available
This training will focus on: Yin Yoga, Restorative Yoga, Hatha Rejuvenation, Supported Hatha Yoga Asanas (Poses), Specialized yoga for Spine & Hips, Wall Yoga, Chair Yoga, Rasa Flow Yoga Namaskaras (Salutations), Meditation & Pranayama techniques. Explore the Spiritual/Energy Body, Understanding the sympathetic and parasympathetic nervous systems and its effects. Class format & themes. Receive a certificate upon completion approved by Yoga Alliance. For more details call Ayesha 604 971-5230.
---