Link To:  Online Schedule & New Member Registration for Earth Studio
Parking: Plenty of parking is available on the street and members are also able to use the large parking lot across Samz Pub and behind the Legion. 1 block away from the studio.
---
March 30th – Good Friday: 6 pm Restorative Cancelled
Studio Closed:
April 1 – Easter Sunday 
April 2 – Easter Monday
---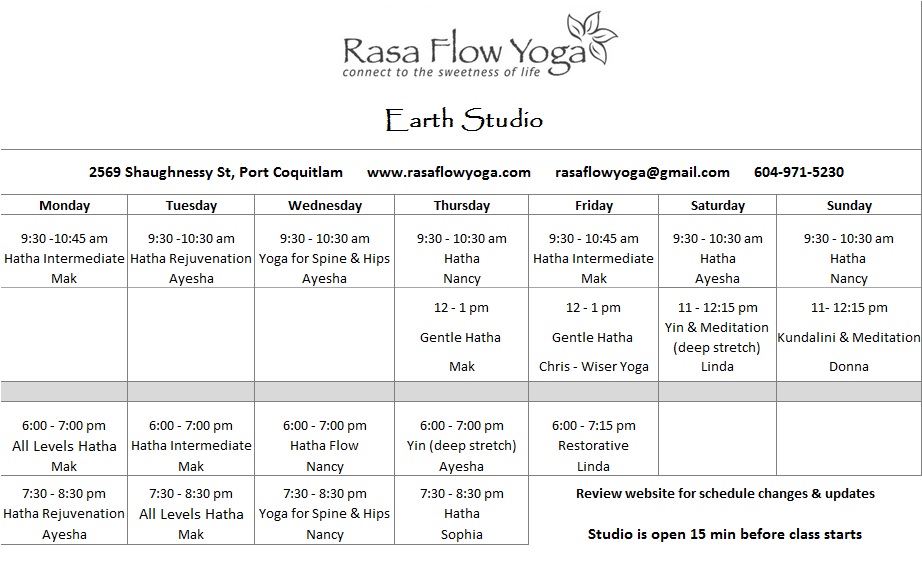 ---
Hatha Rejuvenation:  A Hatha yoga class spending more time in the parasympathetic nervous system to acquire a state of rejuvenation and rest.  A lovely class for everyday life!  All levels welcome.
---
Rasa Flow Yoga Memberships for Earth Studio
Drop In Yoga: $15
1 Month Unlimited Yoga: $80
10 Yoga Classes (1 year expiry): $100
Studio promotional rates:
4 Yoga Classes – 1 month expiry: $30
8 Yoga Classes – 1 month expiry: $60
No Holds or Extensions on memberships
Regarding auto renew: 30 days notice required to cancel auto renew membership. Contract Free membership 🙂
---